Scraps & Sawdust...The SCD Blog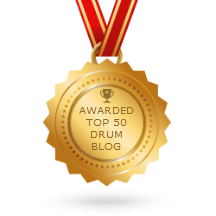 Details

Written by

Bill Ray

Category: Stone Custom Drum Blog
Hits: 3432
We've been cranking out some cool shells here lately! Some American Classic drums (pictured) and some snare shells!
Details

Written by

Bill Ray

Category: Stone Custom Drum Blog
Hits: 3582
We had such a great time at NAMM 2015! It's always nice to see our old friends and make so many new ones in the process. Our booth was on a prime strip of NAMM real estate; on a corner and on a main aisle. Our main attraction was the 9 ply Super America Series Koa/Walnut kit belonging to our artist Ernie Sparks with 8x10, 9x12, 10x13, 13x14 and 14x16 toms, 18x20 and 18x22 bass drums, 6x14, 5x14 snare drums.
Details

Written by

Bill Ray

Category: Stone Custom Drum Blog
Hits: 3349
Our good friend and percussion industry luminary Bobby Boos used to play with a band "back in the day" called "Rosie". As bands do, they all parted ways for a while and t
Recently the idea of a Rosie reunion show was conceived, planned and realized. Bernie offered to build Bobby a kit for the show and this is what you are looking at.
Details

Written by

Bill Ray

Category: Stone Custom Drum Blog
Hits: 3176
By Radim McCue ♦ April 22, 2014
Stone Custom Drums has announced its new Super American Exotic snare drums. Stone is well known for its shells of exotic and North American woods, manufactured in Indiana. Now it is adding exotic drums that are built around a core of native woods such as cherry from Indiana. Stone also owns the original Slingerland shell molds and its designs are influenced by the golden age of American drum making.
The Super American Exotics are currently available in a choice of koa (above), rosewood, or bubinga over native wood cores. The 7-ply drums are available in 10-lug or 12-lug models, and in 14 x 5 1/2 to 14 x 6 1/2 sizes.
Details

Written by

Bill Ray

Category: Stone Custom Drum Blog
Hits: 4480
Nicholas took delivery of a sweet cherrywood kit and man do they look nice but the sound... Stay tuned because as soon as we get audio/video it's going up!...
Born in Albuquerque, NM and raised in Southern Colorado - Nicholas has had the opportunity to play with several great jazz artists. Playing music since he was 5 - Nicholas played Tenor Sax, Piano and Marimba but eventually found his voice on the drums. Focusing mostly on Jazz and being heavily influenced by artists such as Chick Corea and John Coltrane - Nicholas has used his playing as a vehicle to perform across the US and parts of Europe. Nicholas is focused on bringing The Delbert Anderson Trio's musical perspective to the Jazz scene.
Check out his band DAT
But hey, first impressions... says Nicholas:
The quality of their drums are amazing - not only are Bernie Stone (Owner and founder) and Kenton Snyder (Artist Relations) awesome guys...but what they've done with modernizing the Slingerland style of shell construction and vintage essence is amazing. They're truly artisan drums....these guys actually make the shells and work on the entire kit from the ground up....not just buying shells from Keller and slapping on some tube lugs like a lot of boutique drum guys are doing.