Scraps & Sawdust...The SCD Blog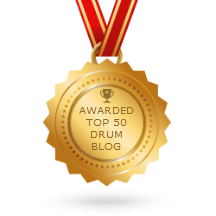 Details

Category: Stone Custom Drum Blog
A blogger in the percussion world, Darin Soll who runs Drum Nuts & Bolts, an internet blog, in Darin's words "Like it or not, all drummers play the role of "drum tech" at times. Drum Nuts (& Bolts) is a blog focused on the technical side of drumming. Topics of discussion include evaluating, selecting, and setting up gear, advice on drum kit configurations, and tips on head selection and tuning."
Darin was so taken with our drums he wrote a blog post on purchasing a kit. Stone Custom Drums on Darin Soll's Drum Nuts & Blots Blog
Details

Category: Stone Custom Drum Blog
We've been cranking out some cool shells here lately! Some American Classic drums (pictured) and some snare shells!
Details

Category: Stone Custom Drum Blog
We had such a great time at NAMM 2015! It's always nice to see our old friends and make so many new ones in the process. Our booth was on a prime strip of NAMM real estate; on a corner and on a main aisle. Our main attraction was the 9 ply Super America Series Koa/Walnut kit belonging to our artist Ernie Sparks with 8x10, 9x12, 10x13, 13x14 and 14x16 toms, 18x20 and 18x22 bass drums, 6x14, 5x14 snare drums.
Details

Category: Stone Custom Drum Blog
Our good friend and percussion industry luminary Bobby Boos used to play with a band "back in the day" called "Rosie". As bands do, they all parted ways for a while and t
Recently the idea of a Rosie reunion show was conceived, planned and realized. Bernie offered to build Bobby a kit for the show and this is what you are looking at.
Details

Category: Stone Custom Drum Blog
By Radim McCue ♦ April 22, 2014
Stone Custom Drums has announced its new Super American Exotic snare drums. Stone is well known for its shells of exotic and North American woods, manufactured in Indiana. Now it is adding exotic drums that are built around a core of native woods such as cherry from Indiana. Stone also owns the original Slingerland shell molds and its designs are influenced by the golden age of American drum making.
The Super American Exotics are currently available in a choice of koa (above), rosewood, or bubinga over native wood cores. The 7-ply drums are available in 10-lug or 12-lug models, and in 14 x 5 1/2 to 14 x 6 1/2 sizes.